Citizenship Education Teacher Award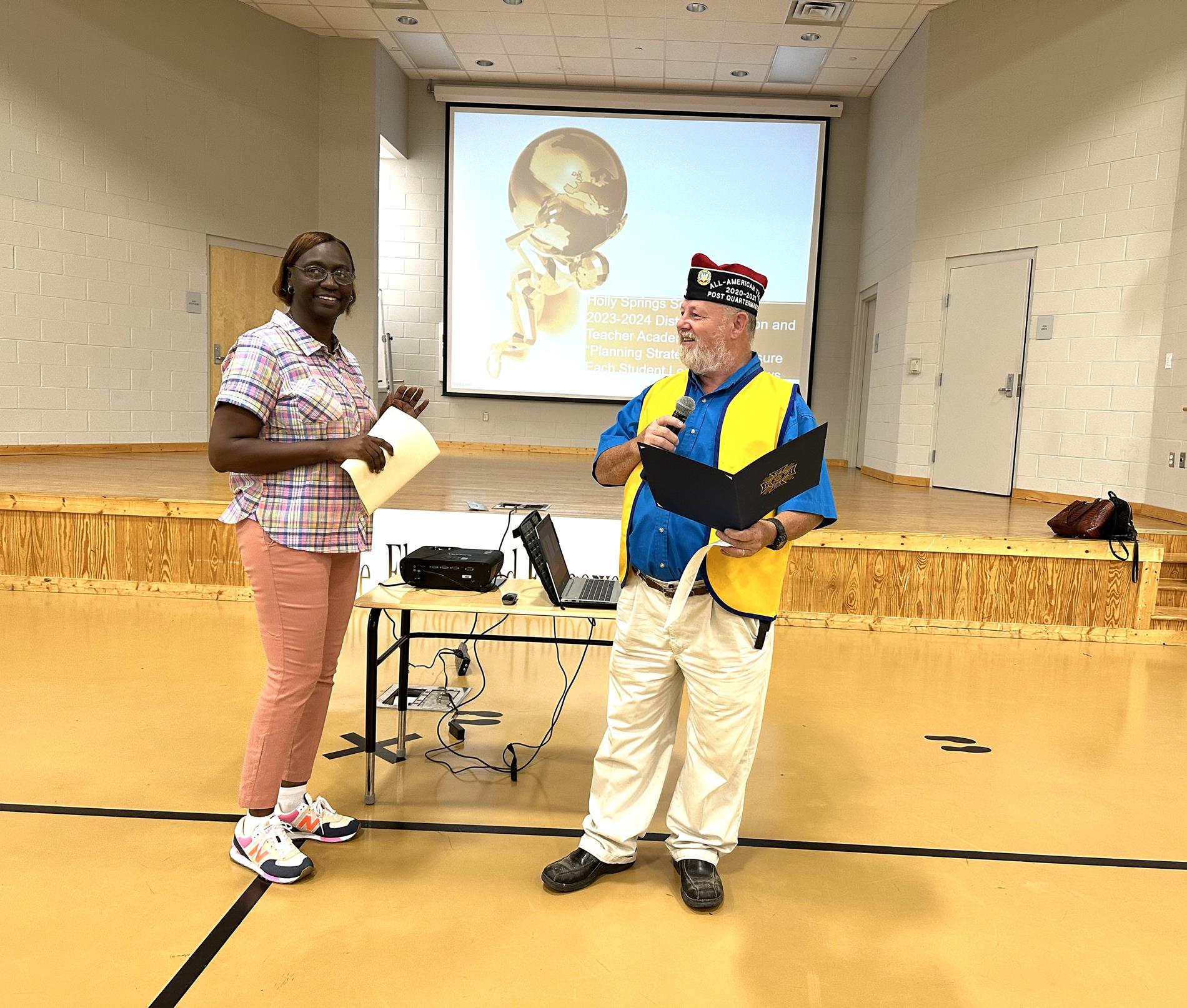 ---
Davis wins for 'dedication to education' and 'excellent example of citizenship'
A Holly Springs Intermediate School teacher recently received statewide recognition.
Reeshemah Nicole Davis was presented the Smart/Maher Veterans of Foreign Wars Citizenship Education Teacher Award for Mississippi during back-to-school orientation for teachers August 3. On hand to recognize Davis were VFW Post 4100 Commander David Rhines and VFW District 10 Commander Mikkel Dunn.
Caryn Parker Swanson, a fellow teacher at the intermediate school, nominated Davis for the honor. She won at the district level first. She is also in the running for the national award.
Swanson said she recommended Davis "for her innovative approach and resource development, her dedication to education, and her excellent example of citizenship."
Not only does Davis teach her students well, but she also models good citizenship. Davis served in the United States Air Force from 1992 to 2012.
"I had the pleasure of observing Ms. Davis when some of my students with special needs attended her math class during the pandemic," Swanson wrote in the nomination letter. "Ms. Davis immediately started teaching through the GoogleMeet digital resource so her students would not miss school. She provided structure and consistency the students needed to concentrate. She gave easy step-by-step instructions and videos that helped the children grasp the math concepts."
Davis kept the class running smoothly so the children could stay on task.
"She made sure the pandemic did not prevent our students from receiving a quality education," Swanson wrote.
Since returning to in-person learning, Davis has continued to use innovative resources and work tirelessly for students and parents.
"In addition to teaching students, she has taught parent seminars and attended PTA meetings," Swanson wrote. "Whether a student needs a little more time or assistance to complete his work, a newer teacher needs advice, or a parent needs resources, Ms. Davis helps us all reach our goals. She never leaves anyone behind."