Dr. Sherna Jones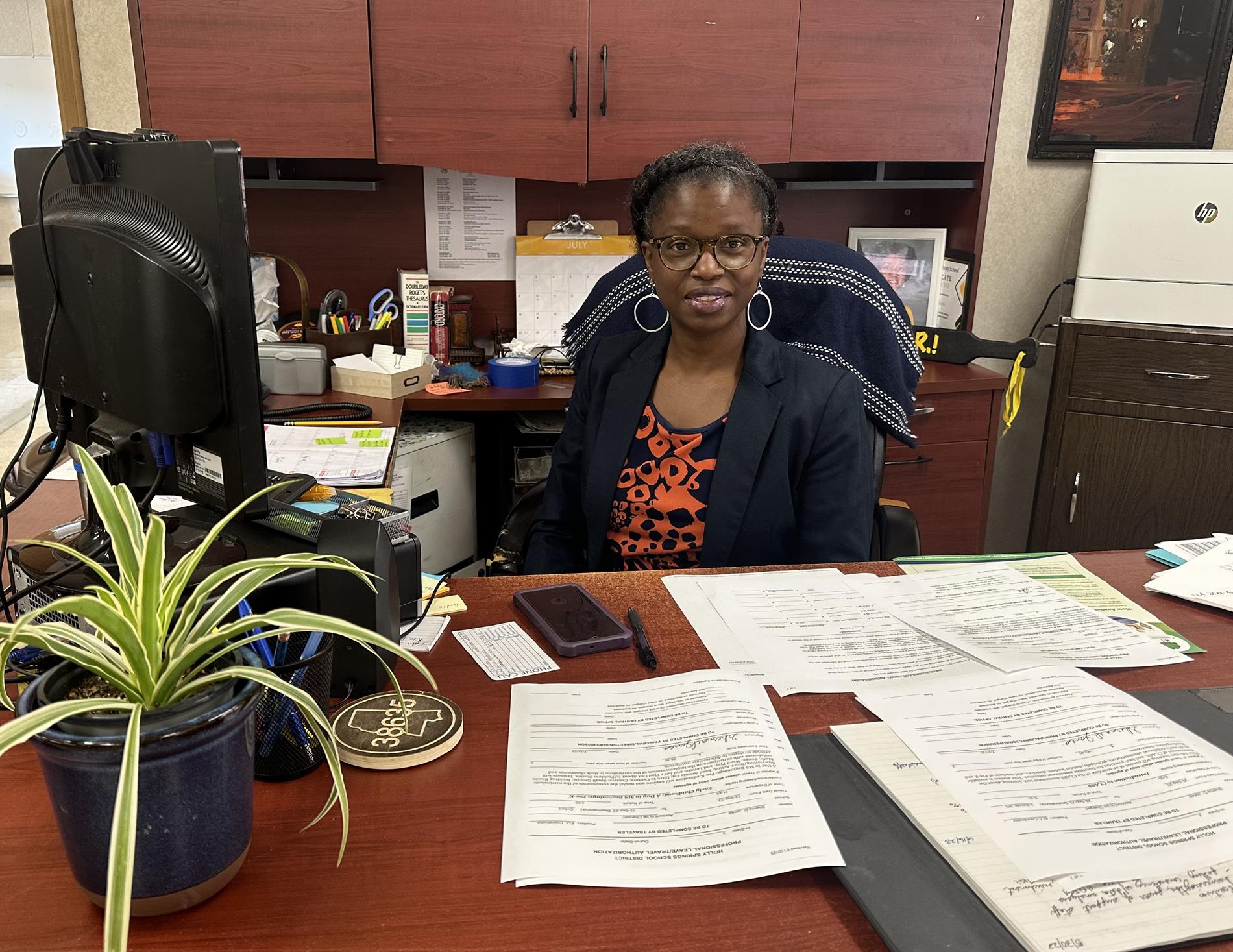 ---
Jones moves into new role with Holly Springs School District
Education comes naturally for Dr. Sherna Jones.
The daughter of the late James and Rubie Lester DeBerry was raised in Holly Springs. Her mother was a first grade teacher for 15 years.
"By the time I was born, she had resigned and was at home with me," Jones said. "That's when she started sort of an informal daycare. I grew up around other children, and then in my high school and college years there were still children around our house.
"From that experience at home to my school days, education has always been nearby."
Jones, 48, continues to climb the educational career ladder. She has been a teacher, daycare owner and principal, the majority of those in her hometown. She recently took on a new position in the Holly Springs School District, pre-K and early childhood coordinator/interventionist.
"I knew I wanted to be an educator, but I didn't think I'd ever want to be a leader (principal)," she said. "I saw all the headaches that go with that.
"But then I realized that teaching affects about 20 children, and as a school leader, my effect is much greater. That led me into leadership."
After graduating from Holly Springs High School in 1992, Jones received her bachelor of science degree in elementary education from Jackson State University. Her first teaching job was in Canton and then she returned to Holly Springs in 1999, working a semester at the alternative school before moving to the primary school. She then operated a licensed childcare center in Holly Springs for 12 years before going back to the school district in 2015 as a third grade teacher. Next she served as an interventionist for three years at the junior high and high schools and then principal four years at the primary school.
While working in education, Jones has also attained both her master's and doctorate degrees in educational leadership from the University of Mississippi.
She is married to Bo Jones, also a graduate of Holly Springs High School and an educator. Their blended family includes seven children, Jivarderick Mason, Corithian Jones, Destiny Stone King, Joseph Stone III, Myles Stone, Nhari Jones and Jabari Jones, and one grandchild, Joseph Elijah King.
In her new role with the Holly Springs School District, she will be leading a first-time early childhood learning collaborative funded through a grant and supporting kindergarten and first grade in all areas.
"We are forming a partnership with Head Start to boost the 4-year-old program," Jones said. "We will be using a new curriculum to meet educational standards for that age group. It will be new to them and to us. This is one of the mandates of the collaborative, and we're looking forward to seeing it develop."
There will be three pre-K classrooms at the Marjean Taylor-Myatt Head Start Center in Holly Springs and one or possibly two at Holly Springs Primary School if enrollment numbers are high enough.
"We're putting more students under that (4-year-old) umbrella, so we can get them better prepared," Jones said. "This is all about getting our children ready for kindergarten.
"MDE (Mississippi Department of Education) looks at scores, and we need our students to meet a certain standard in kindergarten. Then later on they will have a better opportunity of passing the third grade gate. Better preparing them at age 4 leads to a better path moving forward."